We will present with confidence the relaxing moment
of Japanese tradition which could only be experienced in Kazuki.
We hope you will enjoy the gracefull time along with the Kyoto style cusine.
Rooms
Please enjoy the relaxing moments in the traditionally designed Japanese style rooms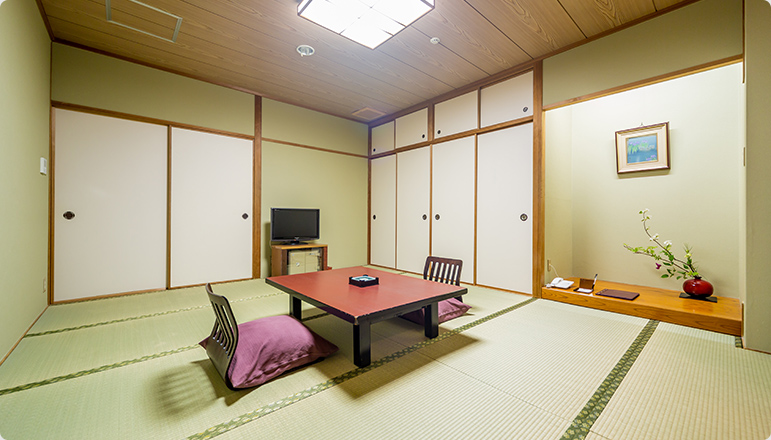 Facility guide
Noh-stage

Though there are many hotels in Kyoto, we are the only one with a traditional Noh stage as a part of the facility.
Banquet hall

There are 4 types of banquet halls for various purposes.
Family dinner, meetings, alumni reunions, etc.
Please let us know for any special requests.
Koumei stone artificial hot spring

KAZUKI's artificial hot spring with efficacy of high quality and natural uranium ore.
Takumi-no-Komichi (Narrow pathway filled with craftsmanship)
From the gate facing the Rokkaku street continuing on into the main entrance,
runs a narrow pathway created by craftsmanship of Kyoto style gardener, carpenter, and mason.
You can feel the heart of tea culture here and there.
We hope you will enjoy the Kyoto elegance in each of your steps to the entrance.

There are still many view points which could not be covered.
We hope you will enjoy all the details when you visit the pathway.
About Japanese-style inns
A lodging facility where you can experience the Japanese style "I・Shoku・Jyu (clothing, food, and shelter)" filled with history, tradition, technique, and culture.

Unlike hotels, "Ryokans" are where Japanese culture is still left very strongly but arranged per Ryokan according to each owners' preferences. It is the one and only original lodging facility around the world.
「衣」


Clothing

At a Ryokan, guests are provided a Yukata (cotton Kimono).
Kimonos were ordinary clothing until a while ago - it was part of the daily life.
Life style has changed greatly now a days, and Kimonos are no longer appropriate.
At a Ryokan, guests are to wear the Yukata to feel and experience the traditional living.
「食」


Food

It is a basic plan to serve dinner and breakfast.
You can experience typical to traditional Japanese food, which was added to UNESCO Intangible Cultural Heritage List.
「住」


Shelter

Japanese buildings are traditionally wooden, but recently there are many Ryokans made from reinforced concrete.
Ryokans with long histories usually are wooden two stories buildings and are evaluated from the building itself. Reinforced concrete Ryokans' interiors are Japanese style as well.
It differs per buildings on how far it follows the traditional style, but many facilites have Tatami, Toko-no-ma (bedroom), and Shoji (sliding door).
These have been invented in the past from the weather and spirit of Japanese.
It is a lodging facility where guests can experience the good old life style.
Staying at a Ryokan in the ancient city Kyoto
Kyoto once was a capital of Japan for 1200 years.
Many culture and hisory was created here in Kyoto, and they are still saved for the future.
"I・Shoku・Jyu" created in the town of ancient history, and the "omotenashi" mind of Kyoto will definitely be one of the best places to experience the Japanese culture.
Access map
Access from the nearest station
■ 8 minutes by car (taxi) from JR Kyoto station
■ 5 minutes by walk from Metro Shijo/Karasumaru Oike station (exit 5)
■ 5 minutes by wakl from Hankyu Karasumaru station
■ 15 minutes by walk (8 minutes by car) from Keihan Sanjyo station
Parking lot
Parking for free up to 5 cars (reservation required) from check-in to check-out If its full, we will guide you to the nearest toll parking lot. We cannot accept cars larger than 6 meters long, 2.3 meters tall. We appreciate your understanding.
Note: The parking lot will only take reservations. Reservations are accepted as per order. Please do not forget to make a reservation before arriving.